Fence Walls in Denver, CO
Long-Lasting Fencing Solutions in Denver and Dallas/Ft. Worth
Dry stacked mortarless fence wall systems provide long-lasting attractive solutions that are unmatched by traditional wood or chain-link options. Constructed with high-strength concrete masonry units, steel reinforcement, and concrete grout, these systems are designed and built to last.
The Slaton Bros, Inc. pre-construction team can help you choose from a variety of color and pattern options for your new fence wall. Slaton Bros. will work with qualified engineers in your area to ensure that your fence meets all local regulations and design requirements.
Interested in a simple, attractive fence wall for your property? Simply contact our Denver fence contractors at (303) 806-8160 to get started! 
Our fence wall offerings come in various configurations, all customized based on their intended role. The main fencing options we offer are privacy and security fences and sound walls, both non-structural products that protect property against eyes or trespassers. These walls are also customizable, allowing clients to match the wall to their desired aesthetic or surroundings.
For Residential, Commercial & Industrial Applications
Fence walls, first and foremost, are incredibly durable and stable. This is due to the installation of precast concrete columns into caisson footings, which provides a sturdy base and structure. This stability also makes concrete fence walls very low maintenance and a great long-term value.
This type of construction can endure any number of different application environments, from humid, rainy areas to arid desert regions. Fence walls are simply great, low-complexity structures that work.
Unsure if a fence wall is right for your project? Call us at (303) 806-8160 to speak with a member of our team! 
Our Denver Fence Wall Installation Process
For each fence wall we install, our first step is to develop a strong understanding of the project scope and requirements. We will visit the site and meticulously plan our construction process based on what we find. Once we develop a plan, we reach out to our client before beginning the construction. 
As we build the fence wall, we will communicate closely with the client to relay project information. We always want clients to know the progress of their projects so they know what to expect. Fortunately, our fence wall services are quick and reliable, so our clients can have peace of mind as we work. When it comes to fence wall installation, no company beats Slaton Bros and our retaining wall contractor services.
The Beauty & Benefits of Fence Walls
With their simple designs, fence walls are a mixture of strength and beauty. The designs of our fence wall systems are optimized to provide the best of both worlds, resulting in beautiful, functional walls. Whether the wall is for privacy or security, our team can deliver a blend of function, aesthetics, and durability.
Fence walls contain a mixture of qualities that lead to longevity and value in nearly any environment.
Customizable
Durable and stable
Easily adjusted for most applications
Moderate sound absorption
Near maintenance-free
Unaffected by most conventional weather/climates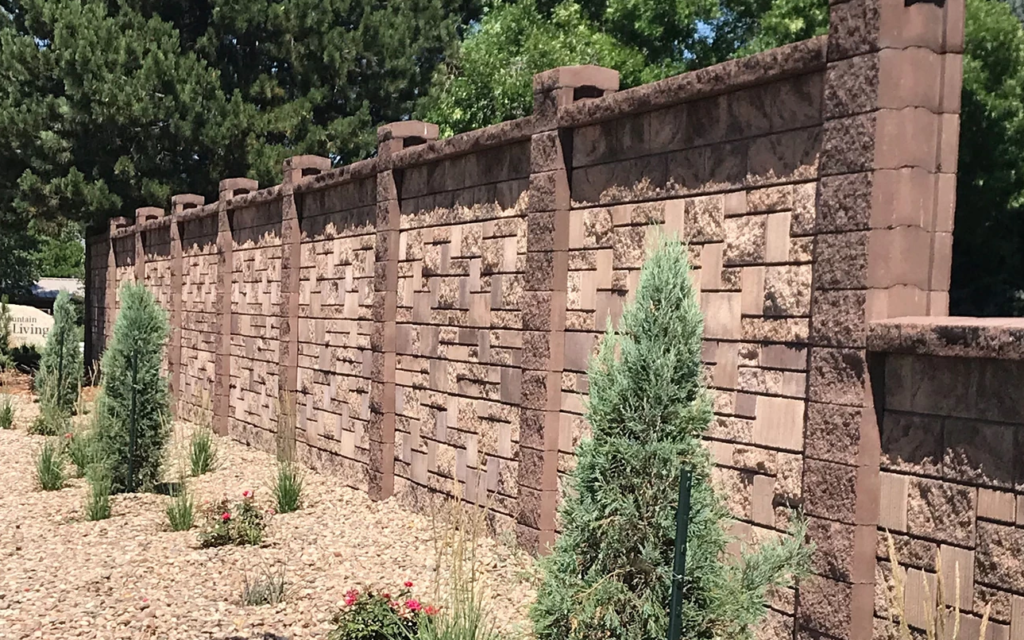 Contact Our Fence Wall Contractors in Denver and Dallas/Ft. Worth!
Looking to add a fence wall to your home or business? Look no further than Slaton Bros, Inc! Contact our retaining wall contractor in Denver today to begin planning your privacy or security fence.