Gabion Walls in Denver, CO
Stabilize Against Erosion
A gabion wall is a retaining wall made of rectangular containers (baskets) fabricated of thick galvanized wire, which are filled with stone and stacked on one another, usually in tiers that step back with the slope rather than vertically. As a retaining wall contractor, Slaton Bros, Inc. has installed countless miles of gabion walls in Denver and Dallas and can expertly install one for your latest project.
Looking for gabion wall contractors in Denver? Contact us at (303) 806-8160 for more information!
Uses of Gabion Walls in Colorado and Texas
The most common use of gabion walls is to stabilize shorelines or slopes against erosion. Gabions are used for retaining walls and temporary floodwalls that filter silt from runoff, small or temporary/permanent dams, river training, and channel lining. They may also be used to direct the force of a flow of floodwater around a vulnerable structure.
The Gabion Installation Process
Gabion wall installation, like the soil nail wall process, is simple and can be completed relatively quickly. This retaining wall construction process begins with a site inspection, where we analyze the soil type, slope, and total construction area. Once the area has been inspected, we prepare the site by removing obstructions like grass and other plants. We then support and level the foundation.
Once the foundation is ready, we insert the wire baskets and fill them with the desired rocks and cement. Either local rocks or those brought in from another area can be used. Finally, we stabilize the baskets with galvanized wire to reduce bulging and add new levels of gabion walls if necessary.
Advantages of Gabion Walls
Due to their simple nature, gabions have many advantages that more complex retaining wall construction methods can't offer.
Low cost
Minimal heavy construction equipment or site disruption
Quick construction time
Permeability and Flexibility
Easily scaled based on the size and shape of the slope
How Our Gabion Walls Are Different
Although gabion walls can be simple, there is still a degree of difficulty involved, especially for larger projects. The logistics of gathering rocks, setting up a foundation, and placing rocks in baskets need an experienced team and proper equipment. Slaton Bros, Inc has spent years perfecting our process for creating gabion walls, leading to quick, safe, and reliable construction.
By using a Denver retaining wall contractor for your project, you are guaranteed excellent service, expert engineering, and long-term support that can't be matched.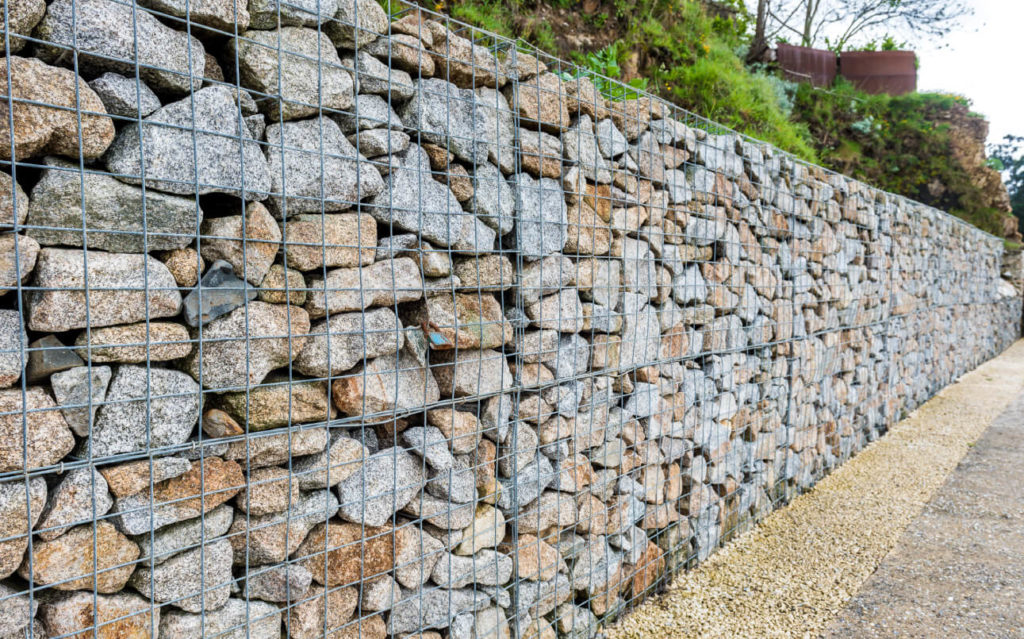 Contact Our Denver Retaining Wall Contractors
Gabions are an excellent way to stabilize slopes, and Slaton Bros, Inc. has spent decades perfecting the art of constructing them. Contact us today to start your own gabion wall project, courtesy of our team!