Strength and Durability for Your Project
The precast block retaining walls offered by Slaton Bros, Inc. are generally counterfort systems, variations on cantilever stem systems and large segmental precast concrete units.
Through our sister company Reinforced Earth Company, we can deliver the cutting edge in precast modular retaining walls.
For the Private, Commercial and Heavy Highway/DOT markets, we currently offer reputable products from Big Block Inc., ReCon, Redi Rock, and Stone Strong. For the Heavy Highway and Transportation specific projects we have the T-Wall and TechWall systems, both optimized to improve upon the conventional cantilever retaining wall system.
To date, we have installed these systems across Colorado and Texas with fantastic results. If your project is in need of a proven retaining wall system, Slaton Bros, Inc. can deliver.
Offering Strength, Durability and a Wide Variety of Aesthetic Options
Precast block retaining wall systems are made from concrete and are ideally suited for roadway applications or in environments that are more susceptible to freeze-thaw conditions. 
Each wall offers a trinity of strength, durability, and aesthetics that can be applied to nearly any project. Through hundreds of installations, our precast modular systems have proven their excellence and dependability
What Our Precast Modular Walls are Made of
Our precast modular retaining walls are made of modular, wet cast concrete units. Walls are generally designed to incorporate the utilization of select backfill for the retained zone of the walls. Depending on the specific system or application required, additional components like rebar reinforced CIP concrete footings/leveling pads may be required to satisfy specific bearing capacity needs.
Concrete is the key ingredient in these walls, and we ensure that we use durable, reliable concrete. Just like our walls, a strong foundation is crucial for good performance, which we apply to every wall we create.
A Larger Option than Segmental Block Walls
Typically, our modular concrete units are much larger than their segmental block wall cousins, and range in facial dimensions of 3 sq.ft. up to 24 sq.ft. of face area per unit. Additionally, because of the larger footprint, each unit can range in weight from 1,400 lbs up to 7,600 lbs.
The size and counterfort design work to the benefit of our precast systems, increasing the resistance of lateral earth pressure and providing unparalleled efficiency.
The Benefits of Precast Modular Block Walls
Counterfort and or extended base width systems are improved over pure cantilever systems by being more resistant to lateral earth pressure, allowing for thinner wall facings. In addition, our systems have a more efficient footing design, thanks to a smaller moment in the footing.
Able to replicate the look of natural stone
Relatively simple to install
Long-lasting & economical
Environmentally friendly
Custom designs available
Types of Precast Modular Block Walls Available
Slaton Bros, Inc. offers many different types of modular block walls, both proven by thousands of miles of installation and years of performance.
Precast block retaining walls for private, commercial, and heavy highway/DOT markets​
Big Block has always been known for pairing simplicity of construction and speed of installation with the structural and aesthetic benefits of using wet cast concrete. Big Block's new product, Big Block One, improves upon that legacy by combining the benefits of a large wet cast block system with the efficiencies found in small modular blocks and panel wall systems. Constructed by casting grid directly into a new, thinner block design, Big Block One is both a structurally stronger building material and a more efficient system to deliver and move around the job site.
Big Block One improves on nearly every aspect of the traditional large wet cast system.
A thinner product that is palletized is less expensive to manufacture and deliver.
A mechanical grid connection that arrives complete on your job site per engineering designs improves structural integrity, installs faster, and reduces errors.
A single system that can tackle any size wall in nearly any setting allows Big Block One partners to better train crews and bid jobs with confidence.
Additional information for the Big Block wall products can be found at www.BigBlockTX.com
ReCon Retaining Wall Systems, Inc. is an industry leader with over 20 years of supplying aesthetically pleasing and structurally superior retaining wall solutions. ReCon focuses on providing value, including:
Engineering and testing for tall gravity walls and taller geogrids walls.
Solutions that accommodate wall needs rather than dictate them.
Durability (wet-cast, air-entrained).
Meets ASTM Standard C1776 for PMB's
Provide up to Five texture options.
Product offerings that fit most if not all projects from Commercial, Government, Institutional to Residential
Features and Benefits:
Large Size and Mass
Tall Gravity Walls
Taller Geogrid Walls
Near Vertical or 3.6-degree batter
Durability
More Efficient Installation / Equipment Set
Engineered and Tested
Customized Design and Aesthetics
Additional information for ReCon walls can be found at www.reconwalls.com
Redi-Rock's massive blocks literally hold up the earth. The sheer size and weight of each block utilizes the power of gravity to create strong, beautiful walls. The Redi-Rock gravity system minimizes excavation and features multiple batter options to allow taller walls. Redi-Rock is excellent for the following applications: rail retaining walls, commercial developments, residential, university or campus walls, municipal / government agencies, and power industry among others.
Redi-Rock now has new larger gravity block called the XL system. This new, hollow-core retaining block extends the reach of the most comprehensive retaining wall system on the market, making even taller gravity walls to heights commonly up to 25' in height in tight spaces. Redi-Rock also has four unique aesthetically pleasing textures to choose from to include Ledgestone, Cobblestone, Limestone, and Kingstone.
Additional information for Redi Rock walls can be found at www.redi-rock.com
Stone Strong walls are a hollow core precast concrete wall system that utilize extreme base width to build gravity, un-reinforced walls to impressive heights. Stone Strong walls offer 3 SF, 6 SF and 24 SF wall sizes with base widths ranging from 28" to 86" in size. The unit weight versus panel size of these units are an advantage where long delivery distances may be required.
Additional information for the Stone Strong retaining wall products can be found at www.stonestrong.com
Precast block walls fort the heavy highway, rail, and transportation markets.
Through our partnership with our sister corporation Reinforced Earth, we are also able to provide the T-Wall and TechWall system to fulfill your Heavy Highway, Rail and Transportation type pre-cast modular block wall needs.
The T-Wall is a gravity retaining wall system, characterized by concrete units that are shaped like a "T". The "T" shape is accomplished with perpendicular stems jutting out of the concrete facing units. The stems provide stabilization and pullout resistance for the wall, eliminating the need for mechanical connections.
The TechWall counterfort retaining wall system consists of full-height wall facing units, cast-in-place footing, and counterforts on the rear of the wall. The TechWall is designed to eliminate the need for soil reinforcements and provide a simple replacement for conventional cantilever systems.
Are Pre-Cast Modular Walls Right for You?
Our pre-cast modular systems are proven to be a great solution for most retaining wall needs. Our systems can be tailored to the needs of any individual project, ensuring the most efficient wall system is used. Pre-cast modular block wall systems are also ideal for narrow or obstructed areas since they need less room to be successful. Finally, our systems can be installed relatively quickly and economically.
If you're not sure if our pre-cast systems are right for you, feel free to contact our office to receive more information on the benefits of the T-Wall and TechWall. You may also visit our sister company Reinforced Earth for more information.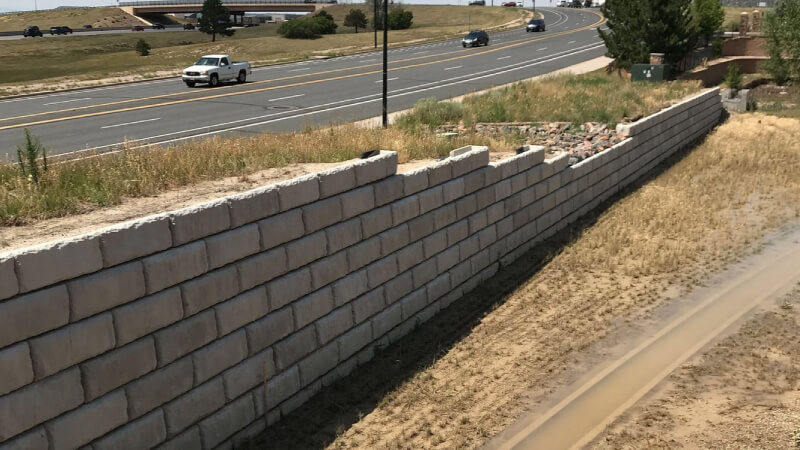 Modular block walls are just one of many wonderful retaining wall systems that Slaton Bros, Inc. has to offer.