Precast Modular Block Walls in Denver, CO
Strength & Durability for Your Denver or Dallas Project
In addition to segmental block wall and MSE systems, our retaining wall contractors also offer precast modular block walls for our U.S. clients. The precast block retaining walls we offer are generally counterfort systems, variations on cantilever stem systems, and large segmental precast concrete units.
We can deliver the cutting edge in precast modular retaining walls like the T-Wall and TechWall systems. This type of retaining wall construction is excellent for heavy highway and transportation needs. For the private, commercial, and heavy highway/DOT markets, we currently offer reputable products from Big Block Inc., ReCon, Redi Rock, and Stone Strong. 
We have installed countless modular block wall systems across Colorado and Texas with fantastic results. If you need a proven retaining wall construction system, our Denver retaining wall contractor team at Slaton Bros, Inc. can deliver.
To receive more information on our precast modular block walls in Denver, contact us at (303) 806-8160 today!
Benefits of Precast Modular Block Wall Systems
Larger Option than Segmental Block Walls
Typically, our modular concrete units are much larger than their segmental block wall cousins, and range in facial dimensions from 3 sq. ft. up to 24 sq. ft. of face area per unit. Additionally, because of the larger footprint, each unit can range in weight from 1,400 lbs up to 7,600 lbs.
The size and counterfort design work to the benefit of our precast systems, increasing the resistance of lateral earth pressure and providing unparalleled efficiency.
Our precast modular retaining walls consist of modular, wet cast concrete units. These walls are generally designed to incorporate the utilization of select backfill for the retained zone. Depending on the specific system or application required, additional components like rebar reinforced CIP concrete footings/leveling pads may be necessary to satisfy specific bearing capacity needs.
Ready to begin working with our precast modular block wall systems? Simply contact our retaining wall contractors in Denver at (303) 806-8160 or Texas at (817) 857-6536 to get started!
Types of Precast Modular Block Walls
Slaton Bros, Inc. offers many different types of modular block walls, both proven by thousands of miles of installation and years of performance.
Big Block has always been known for pairing the simplicity of construction and speed of installation with the structural and aesthetic benefits of using wet cast concrete. Big Block's new product, Big Block One, improves upon that legacy by combining the benefits of a large wet cast block system with the efficiencies found in small modular blocks and panel wall systems.
Additional information for the Big Block wall products can be found at www.BigBlockTX.com.
ReCon Retaining Wall Systems, Inc. is an industry leader with over 20 years of supplying aesthetically pleasing and structurally superior retaining wall construction. ReCon focuses on providing value, including efficient installation, durability, custom designs, and more.
Additional information for ReCon walls can be found at www.reconwalls.com.
Redi-Rock's massive blocks literally hold up the earth. The sheer size and weight of each block allow the power of gravity to create strong, beautiful walls. The Redi-Rock gravity system minimizes excavation and features multiple batter options to allow taller walls, even up to 25'. 
Additional information for Redi Rock walls can be found at www.redi-rock.com.
Stone Strong walls are a hollow core precast concrete wall system that utilizes extreme base width to build gravity, un-reinforced walls to impressive heights. Stone Strong walls offer 3 SF, 6 SF, and 24 SF wall sizes with base widths ranging from 28" to 86" in size.
Additional information for the Stone Strong retaining wall products can be found at www.stonestrong.com.
Precast Block Walls for Heavy Highway, Rail, & Transportation Markets
Our modular block wall team can also provide the T-Wall and TechWall system to fulfill your heavy highway, rail, and transportation type pre-cast modular block wall needs.
The T-Wall is a gravity retaining wall system characterized by concrete units that are shaped like a "T." The "T" shape is made with perpendicular stems jutting out of the concrete facing units. The stems provide stabilization and pullout resistance for the wall, eliminating the need for mechanical connections.
The TechWall counterfort retaining wall system consists of full-height wall-facing units, cast-in-place footing, and counterforts on the rear of the wall. The TechWall is designed to eliminate the need for soil reinforcements and provide a simple replacement for conventional cantilever systems.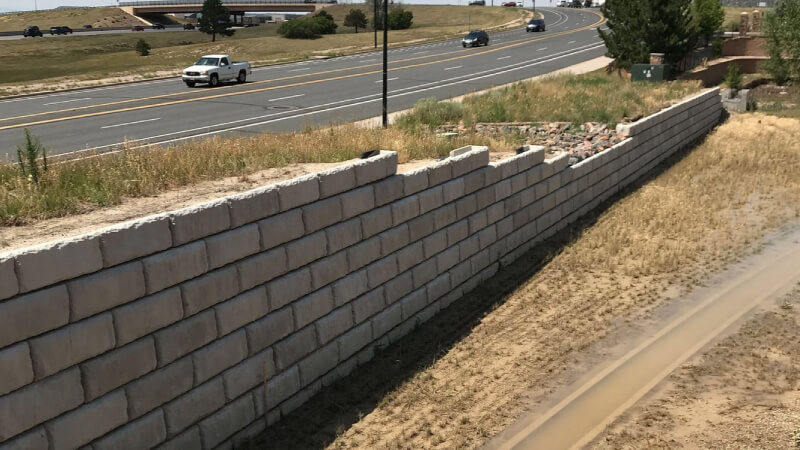 Contact Our Leading Modular Block Wall Contractors in Denver
Modular block walls are just one of many quality retaining wall systems that Slaton Bros, Inc. has to offer. To learn more about our precast modular block walls, contact our retaining wall contractor in Denver today!