Sound Barrier Wall Construction in Denver
Your Source for Modular Sound Barrier Walls in Colorado and Texas
It's no secret that the modern world can get a bit loud these days. Trains, freeways, HVAC units, and other sources of loud noise can be disruptive to the surrounding areas, but they don't have to be. Slaton Bros, Inc. has the experienced, reliable staff you need to install and maintain sound barrier walls in your area.
Sound barrier walls are affordable, durable, and can be fashioned to match their environment. We install only the finest sound barrier walls available, with great local reviews to back it up. If you're in need of sound walls in Colorado or Texas, let Slaton Bros get the job done.
For years, Slaton Bros, Inc has supported the growth of Colorado. As the state expands, Slaton Bros will be there to provide world-class wall construction expertise and resources.
Ready to bring the noise down with our sound barriers? We'd be happy to help. Contact our Denver retaining wall contractor team at (303) 806-8160 today.
The Function and Benefits of Sound Walls
Sound barrier walls work by redirecting the travel of sound away from undesired places (like homes and schools) with high, sound-reflecting walls. These walls have to be high enough to minimize the sound that spills into the immediate area, creating significant noise reductions.
Sound barrier walls can also redirect sound to a particular area, in addition to funneling it upwards. By enclosing all but one side of a substation, transformer, or other entity, the sound is directed to a specific area that is less important sound-wise.
Quieting ground-level noises
Quiet rooftop equipment
Double as security walls
Can be coated to match the environment
In addition to helping reduce noise from some of the loudest machinery, we can customize sound walls to match the environment or display custom artwork, making our walls both functional and aesthetically pleasing.
Types of Sound Barrier Walls in Denver
We carry the FanWall® and Post-and-Panel systems. These two proven systems offer unique benefits that other sound barrier systems simply can't provide.
FanWall® – The FanWall® system 

consists of full-height or stacked concert panels joined by stainless steel wire rope. This system was created in the 1970s and still performs well today, thanks to its unique design. The FanWall® uses offset depth (the longitudinal difference between every other panel) to give it its namesake and provide a sturdy, durable unit. The FanWall® has extensive use in both civilian and military capacities.

Post-and-Panel – The Post-and-Panel system is an innovative sound wall solution, consisting of prefab concrete posts, panels, and drilled caissons. This system allows for rapid construction, minimal footprint, and durability, among other benefits.
For more information on Denver sound barrier walls, contact us at (303) 806-8160 to speak with our team!
Our Sound Wall Construction Experts Will Exceed Expectations
Through the use of proven sound wall systems and experienced team members, Slaton Bros, Inc. is uniquely qualified to supply your sound wall. We understand the science behind sound walls and can provide a barrier that maximizes noise reduction in your area. Finally, our focus as a retaining wall contractor in Denver is on safety and integrity to ensure that every project is done well and safely. We go above and beyond to support our customers and their projects.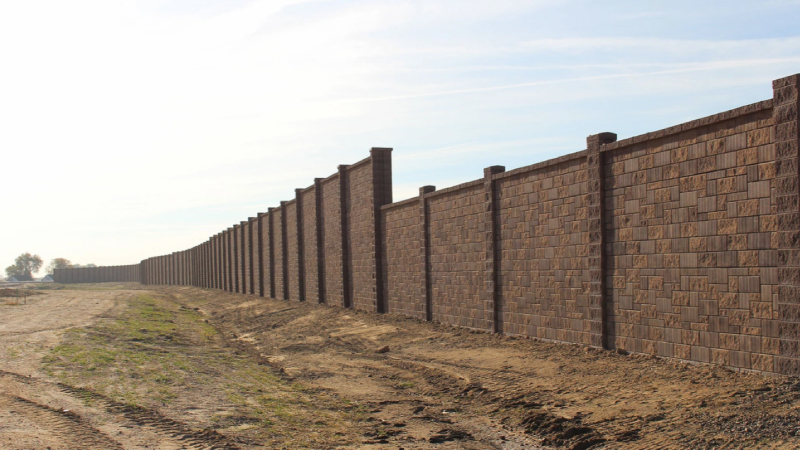 Contact Our Denver Retaining Wall Construction Team Today!
Ready to bring the noise down in your area? Our sound barrier construction team is here to help. Contact our Colorado or Texas offices to learn more about the FanWall® and Post-and-Panel systems!